ICE (International Cargo Express Pvt. Ltd.)

offers its customers comprehensive warehousing & Storage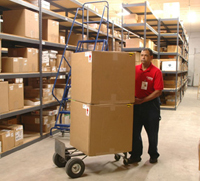 facilities. Through our own space as well as leased space we can provide virtually any form of storage required by the customer.




General Storage





Closed Storage

- For cargo that has already been customs cleared, ICE can provide closed storage space for cargo that is sensitive to weather conditions thereby reducing the importer's requirement for storage space at site full lace wigs.



Open Storage

- Open storage is also available for cargo especially bulk commodities that are not sensitive to heat, light & moisture.





Unpacking, Sorting, Repacking, Palletization



In addition to storage

ICE

also provides packing, unpacking, repacking & sorting facilities as per the requirements of the customers. We also unitize cargo either in pallets or bags as per the requirement of the customers including the fabrication of the pallets itself human hair uk.